Historic Lawrence County
The Lawrence County Convention and Visitor's Bureau recommends The Lawrence County Register to regional history buffs. Newspaper articles, genealogical information, and public records dating from the early history of Lawrence County make up this wonderfully informative website.
Home > Convention and Visitor's Bureau
Lawrence County Convention & Vistor's Bureau
Welcome to Lawrence County, Ohio!
The mission of the Greater Lawrence County Area Convention & Visitors Bureau is to attract tourists to the community of Lawrence County, Ohio, and the Tri-State area.
We provide marketing material and tourism-related counseling services to a diverse group of visitors from the international tourist to local and state travelers. Destination tourism is encouraged throughout the year. Our easy-to-read, visible highway signage directs visitors traveling east or west on Route 52 to our agency.
The local welcome center provides a comfortable reception area for visitors to utilize as they take a break and enjoy hospitable surroundings, receive personalized tourism counseling and get a pictorial tour of the area history.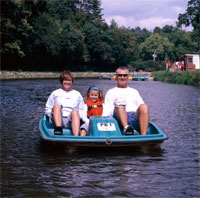 Contact the Convention & Visitors Bureau Director with your comments or questions:
Viviane Khounlavong-Vallance P.O. Box 488 South Point, Ohio 45680 (740) 377-4550 viviane@ledcorp.org