Chamber Membership
Learn about the benefits of membership with the Greater Lawrence County Area Chamber of Commerce.
Apply for Membership
Existing Members
Current members of the Chamber can renew membership fees online through our secure website.
Click here to login or create a new account.
We accept Visa, Mastercard, Amex, Discover, and PayPal.
Home > Ironton in Bloom > In the News
Ironton in Bloom: In the News
9-4-2012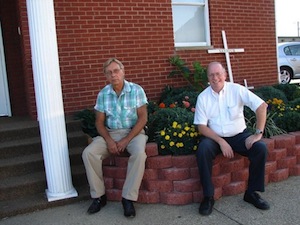 Ironton City Mission Church member Leon Dalton sits with pastor Jeff Cremeans on the decorative block wall he and other members built to contain the flower display in front of the church.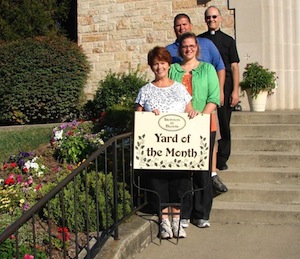 Member volunteers Bonnie McGoron and Shawn and Sharee McDonald pose beside their handiwork with Father Hoffman at Ironton's St. Joseph Catholic Church.

Ironton In Bloom judges chose dual winners to receive August's Church Yard Of The Month award: City Mission Church, 710 N. 5th St, and St. Joseph Catholic Church, 905 S 5th St. The wide variety of plantings used at both churches has created an unusually colorful display this summer, despite the dry weather. "We had some shrubbery that had seen better days that we got rid of, and I volunteered to fill in the space," explains City Mission Church member, Leon Dalton. " A couple other guys from the church helped and we built the wall in just one day. I've not had to water much. I think the love and good singing that comes through here keeps them growing." Father Hoffman at St. Joseph credits his volunteer members Shawn and Sharee McDonald and Bonnie McGoron with creating several colorful flower beds on the church's grounds which cover an entire block. "They do everything to maintain them, I can't take any of the credit," he explained. "Walking into both churches surrounded by flowers just really lifts the heart,"commented Judy Sanders, chairperson of the yard judging committee. "These volunteers are definitely feeding the soul when they feed and water these beautiful flower beds."
NON-NATIVE PLANTS REAL THREAT TO WOODLANDS
Several local organizations are collaborating to inform tri-state citizens of an immediate environmental problem of which many citizens have little or no knowledge, even though it affects their lives directly. Ohio University Southern is opening its doors to a cooperative effort by Iron Furnace Cooperative Weed Management with the support of Ironton In Bloom, Inc. to provide a free informative seminar about the devastating impact the spread of non-native and invasive species is having on our surrounding woodland areas. One's immediate response is to think you are not involved, but if you've ever gone to a nursery or a local chain store and bought ornamental plants, trees, or shrubs to transplant in your own yard or garden, then you may well be part of the problem. Eric Boyda, coordinator of a "Pulling It Together" grant for Iron Furnace Cooperative Weed Management explains, "We are harming our surrounding forests by planting species in our yards and city gardens that do not grow naturally in this area. Good examples of these are the Japanese Barberry and Burning Bush. Not being native to this area, they have no natural predator to hold their spreading in check. Many of them are prolific seeders and with the help of birds and the wind, they can soon crowd out native species in an ever-widening area, changing the whole ecosystem." Boyda explains that there are already some non-native species in our area that are out of control. Dr. Frank Porter, a Meigs County expert on Native Plant Gardening, will present a logical and even pleasant way to approach the problem in a seminar, "Native Plant Gardening" on Thursday, October 20th at 6:30 in the Rotunda of the Riffe building at Ohio University Southern, 1814 Liberty Avenue, Ironton. Dr. Porter asserts that the general public is unaware of the wide diversity of native wildflowers, grasses, trees and shrubs that grow in our own locale. "Native plants offer a viable alternative to non-native plants in the garden without any loss of ornamental quality or beauty in the process… Also, replacing dependent non-native and invasive plants with native plants can minimize the use of water for irrigation and reduce, if not eliminate, dependence on fertilizers, herbicides, and pesticides." Dr. Porter, who has been growing native plants from seeds collected in the wild throughout the Ohio Valley and adjacent states for twenty-five years, points out that getting local growers to recognize and use native plants in the landscape is not only a way to solve a serious problem, but will bring about a more trouble-free and successful gardening experience in the long run. "Tackling the issue of invasive species and convincing the public that native plants are viable alternatives might seem a daunting undertaking. But every day that we delay only makes the task that much more formidable. If we think that we are overwhelmed today, imagine what it will be like in another decade!" warns Dr. Porter. All those who are involved in caring for plants, even minimally, should take advantage of this informative seminar - for your own immediate benefit, and for the future of our surrounding woodlands and the creatures who call it home. If you would like further information, contact Eric Boyda at ericboyda@ironfurnacecwma.org or call him at 740-534-658,