Home > Procurement Outreach Center > Ohio PTAC Info
Ohio PTAC Information
Procurement Technical Assistance Centers, often referred to by the acronym PTAC, provide assistance in bridging the gap between business suppliers and government/military consumers. PTAC counselors are specially trained to assist firms in supplying the demand of the United States government and branches of the military.
PTAC Links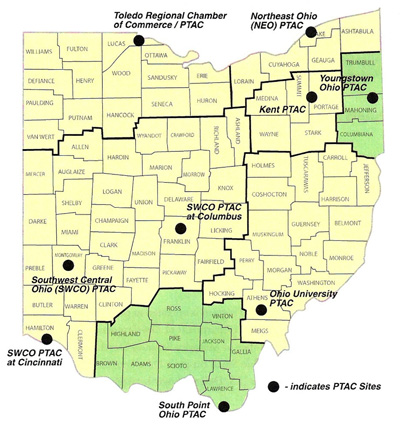 Figure 1: Map of Ohio PTAC Locations.
APTAC-US.org provides a wealth of information about Procurement Technical Assistance Centers.
State of Ohio run Procurement Technical Assistance Center information from the Ohio Department of Development.
The Regional Contracting Assistance Center, Inc. (RCAC) is a non-profit corporation funded by the Defense Logistics Agency (DLA), the State of West Virginia's Development Office, the Southern West Virginia Community and Technical College, and Verizon to provide assistance to West Virginia companies seeking to do business with Federal, State, or local government agencies.