The Point: Utilities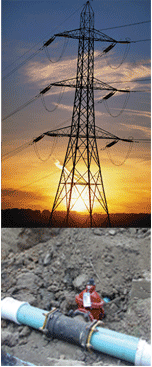 The Point's existing infastructure and low utility costs translates into decreased construction time and increased start-up savings for each new tenant.
Electricity is Provided by American Electric Power with 34.5kv.
Natural gas is provided by Columbia Gas of Ohio with a 6", 30 lbs pressure system.
Water is provided by the Village of South Point through an 8-inch system. The Village of South Point also provides storm sewer lines and an 8 and 10 inch sanitation sewer system.
Telecommunications is provided by Ameritech and Verizon each serve parts of Lawrence County with numerous Internet services, paging, cellular, voice, and data providers.
Ameritech services includes digital switching provided by a DMS-100 central office switch with SS7 technology. Redundant digital routing is available to switches in Gallipolois, Ohio and to Verizon.
Ameritech also provides ISDN prime, T-2 and DS3, as well as other advanced systems and circuits. Verizon provides T-1 and frame relay.
Fiber optic rings provide route diversity within the county and are connected to other fiber optic routes throughout southeastern Ohio.
ConnectLink supplies wireless connections to the internet, up to and including OC-48 connection. ConnectLink wireless access provoides up to a D3 connection or larger, if needed.